Seeking Motivation to Care for My Home When I Feel Burned Out
Seeking Motivation to Care for My Home When I Feel Burned Out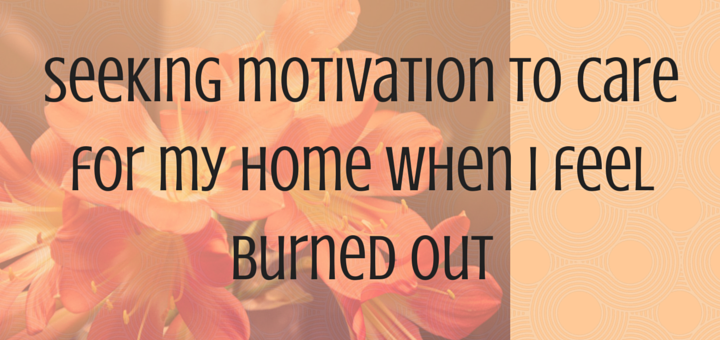 It was a long but satisfying day. My oldest daughter was in her final performance as Earthworm in a stage adaptation of Roald Dahl's James and the Giant Peach. I attended the final show and cast party with her and two of my other girls. It was fun, but after an intense month of rehearsals and a long week of performances, I looked forward to a relaxing evening at home.
When I walked into my bedroom, though, what I encountered was anything but a relaxing environment. Instead, I walked right into a tent pitched in the middle of the floor. Inside the tent were three sleeping bags set up for a slumber party, and three children surrounded me, jumping up and down with excitement. My children had taken over my bedroom, again, and in a split second, I had to decide how to react.
Our master bedroom is located above the garage and is quite spacious. The extra-large room was helpful when my youngest was a newborn, and we set up his crib near me for convenient mid-night feedings. The space also has served as a cozy spot for a child to nap or take quiet time on any given day. I never mind sharing my room with my children, but I guess I do mind when they take it over.
As I decided how to respond to the newest bedroom takeover, my husband promised that it was only one night, and it would be back to normal tomorrow. "Okay," I thought to myself, "it's just one night, and they look so happy. There is no reason to squash those smiles."
And with that, I looked down and told my three youngest children how much fun they would have at their indoor campout!
And they did!
Fast forward three days, and there is still a tent pitched in the middle of my bedroom, along with sleeping bags, a Hot Wheels race track, and a variety of other belongings that are not my own.
And this brings me to a bigger dilemma that I've been wrestling with for a while now. Read the rest of my reflection over at CatholicMom.com, where I share my struggle with burnout and my lack of motivation to maintain, organize, and beautify my home. I turn to readers and ask for their advice.