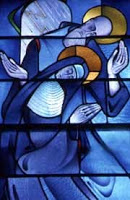 Feast of St. Scholastica
Feast of St. Scholastica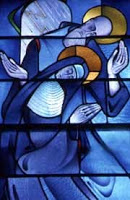 (Thanks, Janette, for e-mailing this to me today!)
Scholastica was the first abbess of the order of nuns founded in Monte Cassino by her twin, St. Benedict. Sr. Scholastica was a devout and dutiful religious. She spent many hours daily in prayer before Jesus Eucharistic. Scholastica was very close to her brother, Benedict. When she died, St. Benedict saw her soul rise to heaven in the form of a dove!
According to the Dialogues of St. Gregory the Great, the brother and sister spent their last day together in prayer and conversation. Scholastica sensed her death was close at hand, and she begged Benedict to stay with her until the next day.
He refused her request, because he did not want to spend a night outside the monastery, thus breaking his own Rule. Scholastica asked God to let her brother remain, and a severe thunderstorm broke out, preventing Benedict and his monks from returning to the abbey.
Benedict cried out, "God forgive you, Sister. What have you done?" Scholastica replied, "I asked a favor of you, and you refused. I asked it of God, and He granted it."
Brother and sister parted the next morning after their long discussion. Three days later, Benedict was praying in his monastery and saw the soul of his sister rising heavenward in the form of a white dove. Benedict then announced the death of his sister to the monks and later buried her in the tomb he had prepared for himself.
I like the feast day of St. Scholastica (and that of St. Benedict, of course), because she was a twin, and now I am the mother of twins. Suddenly, this pair is very dear to me. When my twins are a bit older, I think it would be cute for them to dress up as these holy twins for our annual All-Saints Eve party. In the meantime, we will celebrate today by reading Tomie dePaola's book called The Holy Twins.

St. Scholastica, pray for us!