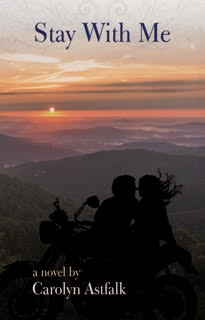 "Stay With Me" Blog Tour Stops Here … And a Giveaway!
"Stay With Me" Blog Tour Stops Here … And a Giveaway!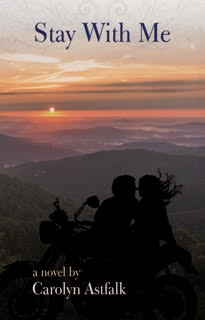 Today, I am honored to introduce you to Stay With Me by Carolyn Astfalk. And I am grateful to be part of the blog tour that is launching this fabulous debut novel.
Stay With Me is a contemporary, realistic, and heart-warming romance that is filled with authentic characters, picturesque scenery, and deep dialogue. It is the next book for your book club and certainly the one you will want to share with friends.
It begins in a grocery store. Rebecca is shopping with her niece and nephew, and Chris is stocking shelves. Their encounter leads to a first date and a delightful courtship. As they get to know one another, they realize they come from vastly different backgrounds. Chris is a convert to Catholicism and comes from an intact, loving family. Rebecca is an innocent young woman who is on her own and away from her overbearing father for the first time. While they clearly care for one another, can they come together on matters of trust and faith? Can their true love for each other sustain them through mistakes and misgivings?
Stay With Me is a fun, enjoyable read that has you rooting for Chris and Rebecca all the way until you read the last page. However, Stay With Me is also so much more. It is an honest look at dating, courtship, human sexuality, and marriage. It draws the reader to a deeper desire to understand self-giving love and the joyful challenges that come with it. Stay With Me puts names, faces and emotions to the Catholic Church's teaching on human sexuality that St. John Paul II coined as "Theology of the Body."
In addition to this review, I thought it would be fun to hear from the author about what inspired her to write Stay With Me. Here is my conversation with Carolyn Astfalk:
1) This is your first novel! Have you always wanted to be an author?
I've always loved to write, but throughout high school, college and in the jobs I held after college, I wrote strictly nonfiction. I only began writing fiction in earnest in late 2010 when I gave National Novel Writing Month a shot and completed a first draft of a novel.
2) What or who inspired you to write Stay With Me?
Lots of little things inspired me: a conversation with a stocker at the grocery store, a blog post on abstinence-only sex education by Simcha Fisher, some experiences my husband had with co-workers and fundamentalist Christians, and, of course, Pope St. John Paul II's Theology of the Body.
3) What is your writing process like? How long did this project take you?
I spend months jotting notes before I begin writing. It's not a formal outline, but I often work out scenes, specific turns in the plot, and character back stories in my mind and in note files before I write. I wrote Stay With Me after I'd had a baby, and I wrote during whatever minutes I could cobble together, probably over three to six months in late 2011 and early 2012. After several rounds of self-editing, I shared it with some beta readers. I signed a contract with Full Quiver Publishing in October of 2014. Another year of beta readers and editing followed.
4) Did anything in the book "surprise" you? At any point, did it go in a direction that you didn't expect?
Since I didn't create a detailed outline beforehand, many things grew as I wrote them. The only thing I would call a surprise is what my publisher calls Chris and Rebecca's "fall from grace." (I think that's an accurate way of describing it without giving away any spoilers.) It defies the conventions of the Christian romance genre and developed by my wondering how their actions would affect a young woman like Rebecca, whose notions about sexuality had been skewed by her family, her education, and her past.
5) Do you have a favorite character from the book? Do you relate to one of them more than the others?
I love all of the characters with the possible exception of Rebecca's father. Abby was certainly fun to write. Her blunt, snarky manner brought life to every scene she's in. I probably relate best to Rebecca, whose personality most closely resembles mine although our experiences are vastly different.
6) What do you hope readers will gain from reading Stay With Me?
I hope they'll appreciate that despite common misconceptions, a romance doesn't have to be tawdry. It can be uplifting and portray authentic love. I also hope they'll be drawn to the beauty and truth of God's plan for our sexuality and marriage.
And without further ado, a giveaway for one Kindle copy of Stay With Me! Enter the giveaway below. The winner will be drawn at the end of the blog tour, so stay tuned!