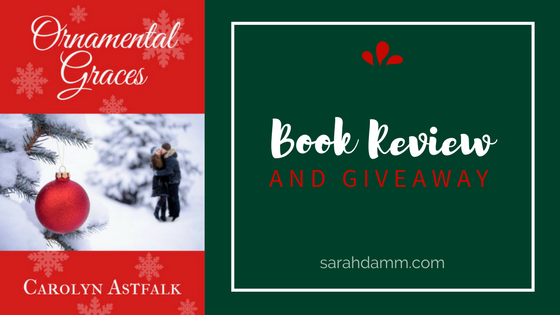 "Ornamental Graces" Blog Tour Stops Here … And a Giveaway!
"Ornamental Graces" Blog Tour Stops Here … And a Giveaway!
Every year, I look forward to watching those fun holiday movies on Hallmark Channel. Yes, they are formulaic and predictable, but they are sweet and light-hearted and just what I need to unwind after a busy day of Christmas prep.
Well, I just read a book that surpasses any romantic Christmas movie I have ever watched. And it wasn't predictable at all! It was quite a page turner that left me guessing what was going to happen next and certainly got me into the holiday spirit.
Ornamental Graces by Carolyn Astfalk is a new Christmas classic. It follows the story of Dan Malone and Emily Kowalski's relationship, as it begins in the Christmas tree lot that Dan owns. At the moment, Dan is still recovering from a very toxic relationship, and he has vowed to never date again. Emily is sweet, genuine, and kind—everything Dan would want in a girlfriend—but he doesn't even dare to think about her, because he feels he has ruined his chance for love.
Of course, Dan ends up running into Emily (a lot), as she is the sister of his new best friend. Even still, he tries to keep his distance. And while his attraction to Emily's inner beauty and joy grows, her lack of self confidence makes her doubt her chances of ever dating.
Character development in Ornamental Graces is amazing, not only of Dan and Emily, but also of secondary characters like Dan's grandma and Emily's brother and sister-in-law. This adds to the richness and intimacy of the book; you really feel like these characters are family members or friends.
As much as Ornamental Graces is fun, romantic, and enjoyable, it is also deep, thoughtful, and inspiring. It unfolds over many seasons and doesn't just wrap up with a pretty bow after only a few weeks leading up to Christmas. Themes of faith, forgiveness, and unconditional love abound and teach us how essential these qualities are in relationships. It also gives us a beautiful portrayal of why Christ came down to earth at Christmas—because we needed Someone to rescue us from sin and despair in order to fully live in His light and love.
For my day on the blog tour, I thought it would be fun to ask Carolyn some behind-the-scene questions about Ornamental Graces, and she was gracious enough to say yes!
What inspired you to write a Christmas novel?
In November of 2014, I was ready to start a new project. I'd been reading some Christmas stories, and I wanted to capture what I guess you'd call the Christmas spirit—love and grace that can supplant pain and sin, kind of the way a fresh snowfall makes everything brand new. Ornamental Graces covers a full two years and all seasons, but it both begins and ends at Christmas, and I think its themes lend themselves well to the season.
Did anything specific inspire you to write this story?
I wanted to write something grounded in my hometown, Pittsburgh, which will always be special to me. I also wanted to explore a character who's dragged down by past mistakes and discover how he moves on. We've all done things and formed habits that are difficult to overcome, that may even make us feel unworthy and unloveable. Christmas, God becoming man for our sakes and living among us, shows us just how worthy and lovable each of us is.
Did anything surprise you, as the story unfolded?
That's tough to answer without giving away any spoilers! I guess I'd say that I didn't realize the depths to which Dan would plunge before he could be reconciled to his past and truly accept not only himself, but God's forgiveness and Emily's love. The writing process itself is still somewhat of a mystery to me, and often themes and symbols emerge that I don't consciously intend. That's always a pleasant surprise.
In addition, for this blog tour stop, Carolyn has agreed to giveaway one signed copy of Ornamental Graces to one lucky reader! To enter the giveaway, please fill out the Rafflecopter form below.
To learn more about Carolyn and her writing, please visit her website. Carolyn lives with her husband and four children in Hershey, Pennsylvania, where the wind carries either the scent of chocolate or cow manure. She is a CatholicMom.com contributor and author of the contemporary inspirational romances Stay With Me (Full Quiver Publishing) and Ornamental Graces.