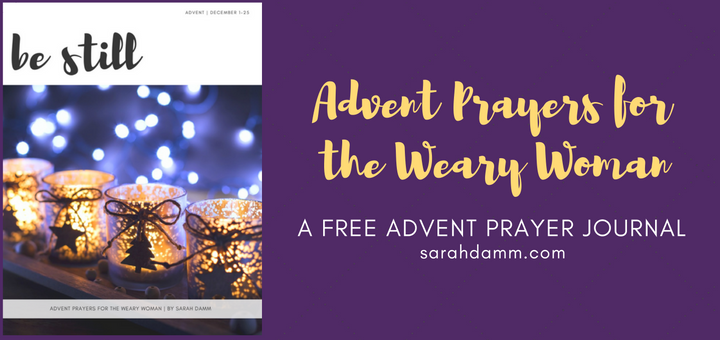 Be Still: A Free Advent Prayer Journal for the Weary Woman
Be Still: A Free Advent Prayer Journal for the Weary Woman
It is midway through this week of limbo. This week that feels like I am on hold. Thanksgiving is over, but Advent hasn't begun.
I wanted this week to be a time to prayerfully consider how I wanted to enter into the four weeks of Advent. But like so often it does, life hijacked that prayerful plan. Some of it was out of my control, like my husband coming down with the flu. But other things were definitely in my control, like giving into anxiety about being behind on my Christmas shopping when in reality, I still have plenty of time.
All is not lost, however. It is only Wednesday, after all! So, I will grab a cup of coffee and find a quiet place to ponder Advent. How do I want to pray? How do I want to remember? How do I want to celebrate?
Before I do that, though, I want to share an Advent gift with you, my dear readers.
Advent Prayer Journal
Last Advent, I felt inspired to create a free Advent prayer journal for women who, like me, felt a bit weary. I wanted to give us a simple way to pause each day and be present to God's presence in our life.
Many of us feel a bit weary, before the Advent season even begins. We want Advent to be prayerful and peaceful, but that desire is coupled with a to-do list that seems impossible to accomplish. And often, we are bringing into Advent things that have been weighing on us for quite some time: fatigue, health issues, sleep deprivation, financial concerns, a relationship strain. The pain and disheartened feelings are real, and we can't pretend they aren't.
Jesus invites us to come to Him this Advent, so that He can restore our weary souls. Christ came down at Christmas to save the weary ones—like you and me. And this Advent He wants to give us rest, refreshment, and renewal, so we can continue to give, serve, and love those around us.
This Advent, I am again offering this FREE Advent prayer journal to my email subscribers. I have updated Be Still: Advent Prayers for the Weary Woman for 2017, and it begins Friday, Dec. 1, and goes through Christmas Day.
Be Still: Advent Prayers for the Weary Woman includes short Scripture quotes, Christmas carol lyrics, prayers, and pondering questions to keep us close to Jesus this Advent. Together, we will contemplate Jesus' invitation to come, to wait in hope, and to rest. We will invite Him to give us wisdom when it comes to our holiday to-do list. And we will discover ways to praise Jesus, even when we are struggling.
Blog Series
In addition, beginning this Sunday, I am offering an encore presentation of a four-part blog series to keep us encouraged this Advent. The reflections will coordinate with the journal, and it is my hope that we can lift each other up this Advent, as we spend time with the Lord, who wants us to come to Him for rest and refreshment. By Christmas, my prayer is that the weary will rejoice again, all because we took some time to be still in the presence of Jesus.
To receive your free Advent prayer journal, click HERE.