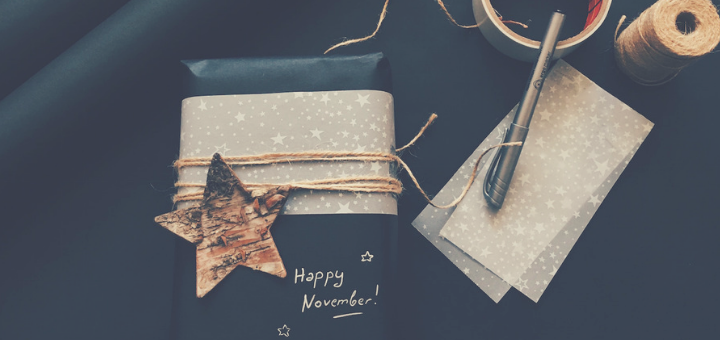 Being Present to November: It's Not Christmas Yet
Being Present to November: It's Not Christmas Yet
If I had to guess the calendar date based on my favorite store's décor, I would get it wrong.
Fall pumpkins, cornucopias, and leafy garlands are nowhere to be found. Only messy remnants of Halloween remain on the clearance racks.
Instead, I see Christmas trees, twinkle lights, and stockings. Signs and symbols of December, not early November.
Whenever I see Christmas coming too early, I feel rushed and anxious. Suddenly, I think I am behind, as if I've missed a month and it's really December 4 instead of November 4. I have to remind myself that I still have an entire month before Advent begins and a good seven weeks before the actual day of Christmas.
That's why I am so grateful for the liturgical calendar. A calendar that encourages me to slow down, savor, and enter more fully into the moments of life—small and big alike.
Following the liturgical calendar, I am not rushed from one big event to the next. I don't miss the moments in between, which can be just as special and meaningful.
November is one of those small, in-between months. And yet, it is rich with beauty, remembrance, and blessing. It's worth being present to November and entering it fully.
November Traditions
In Catholic tradition, the month of November remembers the holy souls in Purgatory. It is customary to visit the gravesites of loved ones this month. And if you cannot, it is a special time to pray earnestly for their entrance into Heaven.
In November, we also honor the lives of some amazing saints. Included in the litany of November saints are these beautiful sisters in Christ: Frances Xavier Cabrini (Nov. 13), Margaret of Scotland (Nov. 16), Elizabeth of Hungary (Nov. 17), and Cecilia (Nov. 22).
Lastly, in November, the Church calls us to keep our hearts and minds focused on Christ's reign over Heaven and Earth, as we celebrate the Solemnity of Christ the King (Nov. 25).
A Month of Gratitude
What makes November even more meaningful is that in the midst of this treasured Catholic heritage, we are invited to focus on the virtue of gratitude. Not just on Thanksgiving Day, but all month long.
Jesus told St. Faustina: "Be grateful for the smallest of My graces, because your gratitude compels Me to grant you new graces."
Poet John Milton says, "Gratitude bestows reverence, allowing us to encounter everyday epiphanies, those transcendent moments of awe that change forever how we experience life and the world."
In today's Gospel, Jesus reminds us of the greatest commandment.
"You shall love the Lord your God with all your heart, with all your soul, with all your mind, and with all your strength." (Mark 12:30)
What better way to show God our complete love than by expressing our gratitude for all that He gives us?
Being Present to November
This November, let's not worry too much about how our favorite shops are decorating. Rather, let's lean into the wisdom of the Church. Being present to November allows our hearts to slow down and our minds to stop racing, as we enter into a month rich with tradition and blessing.
Here are three ways to remain present to November:
1) Make a list of your deceased loved ones. Add one name to each day of your November calendar, and repeat as necessary. Pray for one person per day throughout the month.
2) Keep a gratitude list throughout November. Jot down one, three, or five things you are grateful for, each day. (Click HERE to get a free gratitude list printable!)
3) Pick one feast day to celebrate in a special way this month. For example, bring Mary flowers on the Presentation (Nov. 21). Visit Catholic Culture for a list.
St. Thérèse of Lisieux encourages us: "Jesus does not demand great actions from us but simply surrender and gratitude."
How do you plan to be present to November? And resist rushing into the next big thing, like the world seems to do?
---
This article was first published at WINE: Women In the New Evangelization.