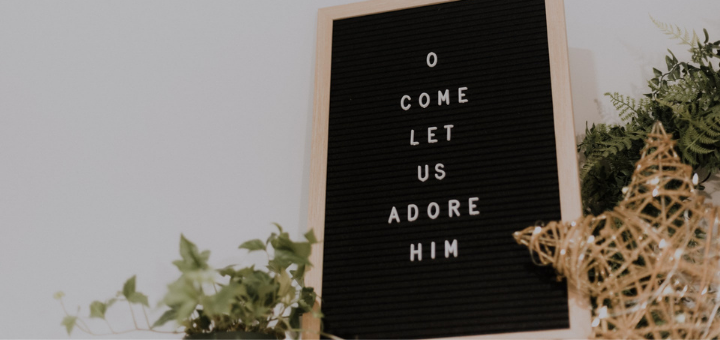 Celebrating the Epiphany of Our Lord
Celebrating the Epiphany of Our Lord
"On entering the house, they saw the child with Mary his mother; and they knelt down and paid him homage. Then, opening their treasure chests, they offered him gifts of gold, frankincense, and myrrh." // Matthew 2:11
In the Gospel of St. Matthew, we read about the magi, the wise men, who followed the star of Bethlehem in search of the Newborn King. They traveled a long way to greet and adore the Christ Child, even though they were not members of the Jewish faith, which held a deep longing for the Messiah to come and "ransom captive Israel."
Traditional Roots of Epiphany
For centuries, Roman Catholics, as well as Christians in Eastern rites, have honored this pilgrimage of the magi within the Christmas season. In fact, Epiphany is considered the twelfth day of Christmas.
Theologically, Epiphany commemorates the manifestation of Christ to the entire world. In other words, it is the event that reveals Jesus as the Messiah, the Son of God. While we primarily focus on this revelation to the magi, the Church also teaches that this manifestation occurred at two other events:
Christ's Baptism, when God's voice from Heaven said, "This is my Son, the Beloved, with whom I am well pleased." // Matthew 3:13-17
The wedding at Cana, when Jesus performed His first public miracle. // John 2:1-12
Rejoice! It's Still Christmas
The Feast of the Epiphany, the twelfth day of Christmas, reminds us that while the world has long packed up Christmas for another year, we continue to celebrate the birth of our Savior.
We are blessed with another day to ponder the profound meaning of the Incarnation: that Jesus, the Messiah, the Son of God, came down to earth to meet us in our need, to dwell and walk among us, and to save us from our sin.
What an incredible gift worth celebrating and reverencing for more than one day!
So, how can we respond to this gift? His gift of salvation? His gift of rescue? The gift of His complete and total love?
Ponder, Pray, and Praise on Epiphany
On the Feast of the Epiphany, let us honor Christ's manifestation to the world by taking time to ponder, pray, and praise.
Ponder
O come, let us adore Him. The three magi traveled far to greet the Messiah. Legend says that their journey took three to twelve months! Let us ponder:
To what lengths do I go to spend time with the Lord in prayer and adoration?

Do I remain steadfast in my quest to "strive first for the kingdom of God"? // Matthew 6:33
Oh, Lord, may I never grow complacent in my quest to seek and find You! May I always go to great lengths to encounter You at Holy Mass and in Eucharistic Adoration. Amen.
Gold I bring to crown Him again. The wisemen gave Jesus the finest gifts, truly fit for a king. Let us ponder:
Do I give Jesus the best part of my day in prayer?

Do I give Him the fullness of my heart, by seeking to do His will above mine?
Oh, Christ my King, I renew my devotion to You! I love You, and I am so grateful that You came on Christmas! You are the King of my heart; the King of my entire life. Amen.
Let loving hearts enthrone Him. A supernatural faith brought the magi to the stable, and upon their encounter with Jesus, Mary, and Joseph, their lives were forever changed. Let us ponder:
How has the birth of Christ changed my life?

How can I order my days according to my encounter with the Newborn King?
Oh, Little Lord Jesus, my faith in You has grown so much this Christmas! How could it not? May You always find room in my heart to rest Your sweet head. Amen.
Pray
Catholics attend Holy Mass on the Epiphany. And the Church also offers a special home blessing for this feast day. This can be done whether you live alone, with roommates, or within a family.
Before Epiphany, purchase chalk and ask your priest to bless a piece of it. Also be sure to have blessed Holy Water on hand. (Did you know special Holy Water is blessed on Epiphany?)
The custom is to bless the entrance of your home. Then, write the initials of the three wise men plus the numbers of the new year just above the doorway with blessed chalk. Afterward, sprinkle the doorway and each room of your home with Holy Water.
This is a lovely tradition that invokes the peace of Christ upon the house, all those who dwell within it, and all who visit it. To find the complete text for this traditional blessing, click here.
Praise
After pondering the miracle of the birth and manifestation of Christ, and blessing your home with special prayers, it is time to celebrate the Epiphany!
In many families, the wise men arrive at the home's Nativity display on Epiphany, after traveling throughout the house during Advent and the Christmas days leading up to this feast day.

In some countries, it is customary to give gifts on Epiphany instead of on Christmas. While my own family exchanges gifts on Christmas, we emphasize the three gifts of the magi, and give our children three gifts, too. Gold is their main gift; frankincense is something that will draw them closer to God; and myrrh is something that they can wear.

One Catholic

blogger

has a custom of purchasing new Catholic books for her children on Epiphany. They even arrive wrapped in gold paper!

Since it is still the Christmas season, keep listening to Christmas carols. Today, be sure to add "We Three Kings," "The First Noel," and "The Twelve Days of Christmas" to your playlist.

End this special feast day with a delicious

Twelfth Night Rum Cake

.
Do you honor the Feast of the Epiphany with special prayers and traditions? Please share them in the comments below.
---
This was originally published on the Blessed Is She blog.