7 Quick Takes Friday—Volume 1
7 Quick Takes Friday—Volume 1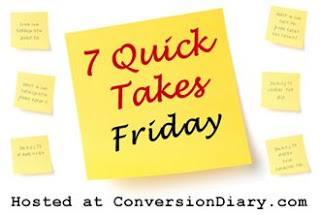 I have a few little things to post about, so I thought I'd give the 7 Quick Takes Friday format a try …
1. My week started off with the wonderful pleasure of meeting Catholic author Regina Doman at a book signing, along with her very kind husband, Andrew. I have read her Fairy Tale Novels trilogy and reviewed them
here
. They are very good books, and I highly recommend them, especially if you have a teen in your life. She was very friendly and took much time with each fan who was there to meet her. I was indeed inspired by the large number of teens present, especially teenage girls in their modest fashions. It was a very hopeful scene!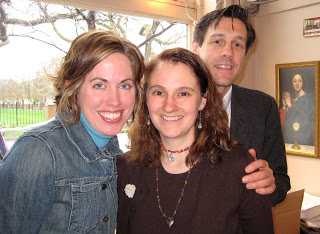 ~~~~~~
2. My knitting-lessons scarf is coming along nicely. I didn't have my homework complete for this week's class, because I could tell I was doing something wrong. Indeed I was! It wasn't the cable-knit stitches that were giving me a hard time; I wasn't grasping the pattern's instructions of "knit what you see." I got this confused with an instruction a few weeks ago of "knit your purls and purl your knits." For you knitters out there, you can imagine that my work was a bit messed up! So, using my scarf, we had an impromptu lesson on pulling out stitches and un-knitting. I could never do this again by myself without completely ruining my project and having to start over, I am certain. But someday … maybe.
~~~~~~
3. I finished this book this week. It is a collection of letters from Mrs. Elizabeth Bennet Darcy to her sister, Mrs. Jane Bennet Bingley, during her first year of marriage. Obviously, it is a "what if" type of creation, but it is written well and a pretty quick read. I found Elizabeth to be very similar—witty and friendly—to how she is portrayed in the beloved Jane Austen novel, Pride and Prejudice. And the spirit of mannerisms, grace and decorum that are authentic to Austen as well as to that period of history are preserved. I agree with one review I read that said [Letters From Pemberley] is very much like hearing from an old friend again.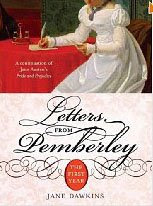 ~~~~~~
4. Look what bloomed in my yard this week! I really can't take any credit for them, as they were here before we were, and we haven't done much to enhance the landscaping since we moved in. But I'm glad they're here, and every spring I look forward to seeing them once again.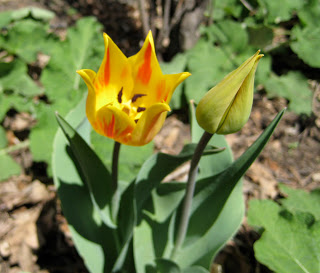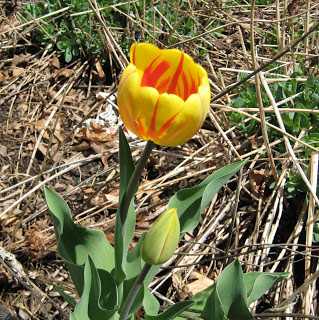 ~~~~~~
5. In addition to these flowers blooming, we have had a lot of April showers lately. Even though we long for some warmer, drier weather, it is amazing how quickly buds appear and grass becomes greener with some rain! Spring is finally here to stay, I dare say!
~~~~~~
6. He got such a kick out of putting this on his head. All I could think: My little knight in his first piece of armor =)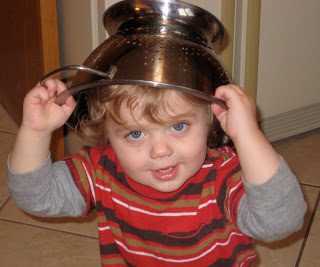 ~~~~~~
7. We have a full weekend ahead of us: school fundraising, a First Communion, a luncheon for the moms of my daughter's school, and hopefully some very, nice family time together. I hope you have a blessed weekend whatever comes your way.
For more 7 Quick Takes Friday entries, visit
here
.