A Mailbox Full of Fun
A Mailbox Full of Fun
Yesterday, I was delighted to find something fun in the mailbox, instead of the typical fliers, bills and other junk mail.
It was a package! A delightful package from Carmen at
Carmie's Cozy Conifer Cabin
.
And in that delightful package was some lovely, colorful yarn that she knew she'd never use and wanted to give away.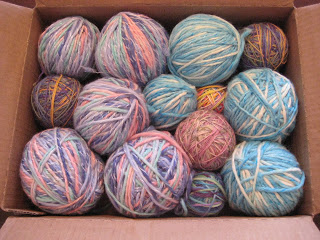 Since I'm still a fairly new knitter and haven't acquired a big "stash" of yarn, I gladly said I would take the yarn she did not need.
She told me that she originally was planning on making something baby-esque with it, and I think that's exactly what I plan on doing, too, for a couple of special mamas I know who are expecting …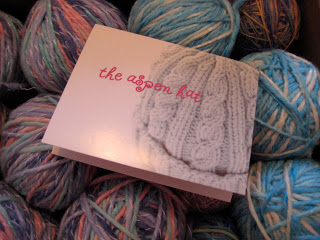 With my current projects, as well as these baby projects and two prayer shawls in my queue, I have
plenty
of yarn and
plenty
of projects to last me awhile. No purchasing yarn "just because" for me! I will take the wise advice of Carmen and
Jenn
and keep my stash manageable.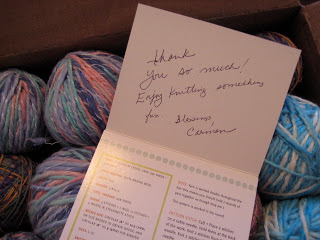 Thanks, Carmen, for sharing your yarn with me! I will be sure to share the end results of my baby projects here and on Ravelry!