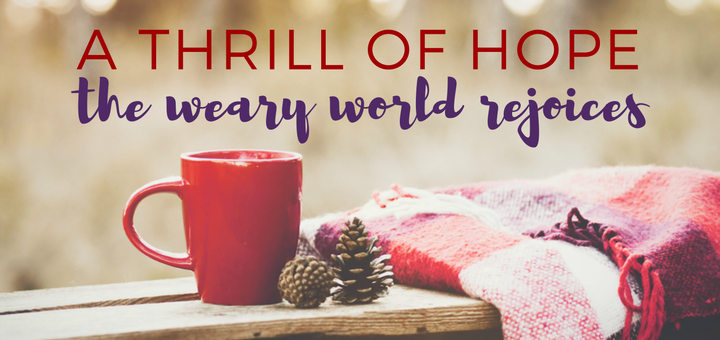 An Advent Plan for the Weary Woman's Soul
An Advent Plan for the Weary Woman's Soul
I am so excited to be part of CatholicMom.com's 2016 Advent Guide, a collection of articles and reflections to help you prepare for the Advent season. Today, I shared An Advent Plan for the Weary Woman's Soul.
***
Sitting across the table from a friend, she sensed my tension. After making small talk, she asked, "OK, what are you holding back?"
As she invited me to be real and honest, it all came pouring out. How life just seemed really hard, and how I felt tired of fighting, striving, and stumbling my way through it. I was frustrated with myself that I couldn't keep up, stay organized, or catch my breath.
Her response was so gracious. As she repeated back to me all that was really hard in my life, I saw myself in a clearer light. My feelings of being overwhelmed and exhausted were real, and I wasn't just being wimpy. As a wife and mom, I was giving to the point of exhaustion. And on top of it, I was trying to fix what was broken within me. At that moment, I allowed myself to feel the pain, cry, and let go of my impossible expectations.
What if I can't lose weight right now, because my thyroid is out of whack? Is my life only worth a number on a scale?
 What if I can't catch up on the laundry of eight people, because I'm chronically fatigued? Is my life only worth an empty basket?
Dear sister, are you feeling tired, weary, and overwhelmed, before the season of Advent even begins? Maybe it's a health issue—yours or a family member's. Maybe it's sleep deprivation—running after toddlers all day long. Maybe it's a relationship strain—with a child, in-law, or friend. Whatever is causing weariness, it's OK to let go of high expectations and simplify Advent and Christmas this year.
As women, we are naturally inclined to give, serve, and share. This can be our greatest strength, but there are times when we need to rest and lean more on God.
In John 15:5, Jesus says, "apart from me you can do nothing."
And in Philippians 4:13, St. Paul says, "I can do all things in him who strengthens me."
So, if we can do nothing apart from Jesus but all things in Jesus, perhaps He is inviting us to something special this Advent.
After all, more than chocolate countdown calendars and spying elves on shelves, the season of Advent is a time to watch in wonder for Love to come down at Christmas. Then, the weary soul can rejoice again.
An Advent plan for the weary woman gives us grace to say yes to what is possible this year and no to what might cause additional stress, anxiety, or exhaustion.
An Advent plan for the weary woman gives us grace to say yes to what is possible this year and no to what might cause additional stress, anxiety, or exhaustion. Here are six ideas for doing nothing apart from Christ and all through Him who gives us strength.
Pray. More than anything, Jesus invites us to spend time with Him, so He can refresh our weary souls. Can you devote one hour per week to quietly adore the Babe in the manger? Can you set aside 15 minutes each day to read the daily readings or a special devotional (like this free one from The Littlest Way)?
List. This Thanksgiving weekend, list out everything you would like to do this Advent—Jesse Tree, feast days, baking, wrapping, shopping, etc. Bring your list to prayer, and ask Jesus for wisdom to prioritize it into essentials, nice-to-haves, and what can wait for another year.
Simplify. Now simplify the essentials! For example, use gift bags instead of wrapping paper this year.
 Ask. What tasks can you get help with? Can your husband shop for groceries? Can the kids set up an assembly line to stuff Christmas cards? Can you shop online, instead of fighting the crowds?
 Be. Make plenty of room to be present to the moment. Read Christmas books with the kids. Make hot chocolate and play games. Sit in front of the Christmas tree's twinkling lights. Meet a friend for tea.
Rest. With a simpler plan, be sure to enjoy the extra time you have to get a good night's sleep, take a nap with the baby, or color while listening to Christmas carols. Restful activities refuel us and give us energy to do the work God invites us to do, even if it's less than what we think is "normal."
If you are feeling a bit weary, please know that you're not alone. I am right there with you. And each Sunday of Advent, I will offer us some encouragement, on my blog. How can we celebrate this hopeful and joyful season when we are feeling drained and dry? Each week will include Scriptures, Christmas carols, and a printable. In addition, I am offering a FREE prayer journal to email subscribers. I hope you will join me!