Thoughts: Think Happy Ones
Thoughts: Think Happy Ones
We have reached the end of our third week of this 31-days series on Resetting the Rhythms of Life. I continue to be so grateful that we are on this journey together!
As we end this week of refocusing our attention, let's review what we covered over the past seven days. We paid attention to the self-care and soul-care habits that will help us reset the rhythms of our life: sleep, relaxation techniques, ways to glorify God that also care for the temple of the Holy Spirit (our bodies) that He gave us. We also were present to the chronic, painful situations that may be out of our control. While these things cause stress and fatigue, we can learn to surrender them to God and rest in His love. Lastly, we addressed any weariness we feel while trying to create (or recreate) new habits, and how important it is to press on.
Today, we wrap up this week with a devotional on filling our minds with pleasing thoughts. In this day and age, with so much negativity swirling around and within us, we need good thoughts now more than ever.

---
Living in Truth
As women, we feel like we have to "do it all," say "yes" to every invitation, sign up for all the volunteer opportunities. We think that if we don't, we fall short, we are less-than, we aren't keeping up with what others are doing. We compare our interior with other women's exterior. It's not a fair comparison.
And yet, we wrestle constantly with this, we beat ourselves up, and we grow exhausted, weary, and unhappy.
Friends, so often in life, we expect more of ourselves than even God expects of us! God does not want us to compare. He does not want us to struggle with unrealistic expectations. God created us to be human beings; not human doings.
When we are hard on ourselves, we prevent ourselves from being who God wants us to be in the here and now … in the totally imperfect life we live.
Today, let's put a halt to the high expectations that we never seem to meet. Let's stop the negative thoughts that beat us up. Let's replace them with truth:
We are loved … created in the image of God … fearfully and wonderfully made … the apple of His eye.
Let's live in that truth right here, right now.
Scripture Reading
Take a few moments to quiet your heart. Breathe in and out.
Read today's Scripture verse.
"Finally, beloved, whatever is true, whatever is honorable, whatever is just, whatever is pure, whatever is pleasing, whatever is commendable, if there is any excellence and if there is anything worthy of praise, think about these things." —Philippians 4:8
After reading the verse once, read it one or two more times.
What stands out to you? A word, feeling, thought …
Journal Prompt
Do you struggle with placing high expectations on yourself? Do you set the bar so high, it is rarely attainable?
Is this pleasing to God? Especially if you beat yourself up about not meeting your own expectations?
What would it look like to lower expectations? How would you feel?
How can you replace the shoulds and swirling negative thoughts with what is described in our reading from Philippians?
Closing Prayer
Heavenly Father, Forgive me for placing such high expectations on myself, for expecting more of myself than You expect of me. I am already so weary. Being hard on myself is not helpful, I know. Help me to be more realistic with myself, more gentle … Give me the grace to fill my mind with good, beautiful, and truthful thoughts that always point to You. Show me Your desire for me, in this present moment. Thank You for guiding me, as I work on resetting the rhythms of my life, so that my rhythms are in sync with Yours. Amen.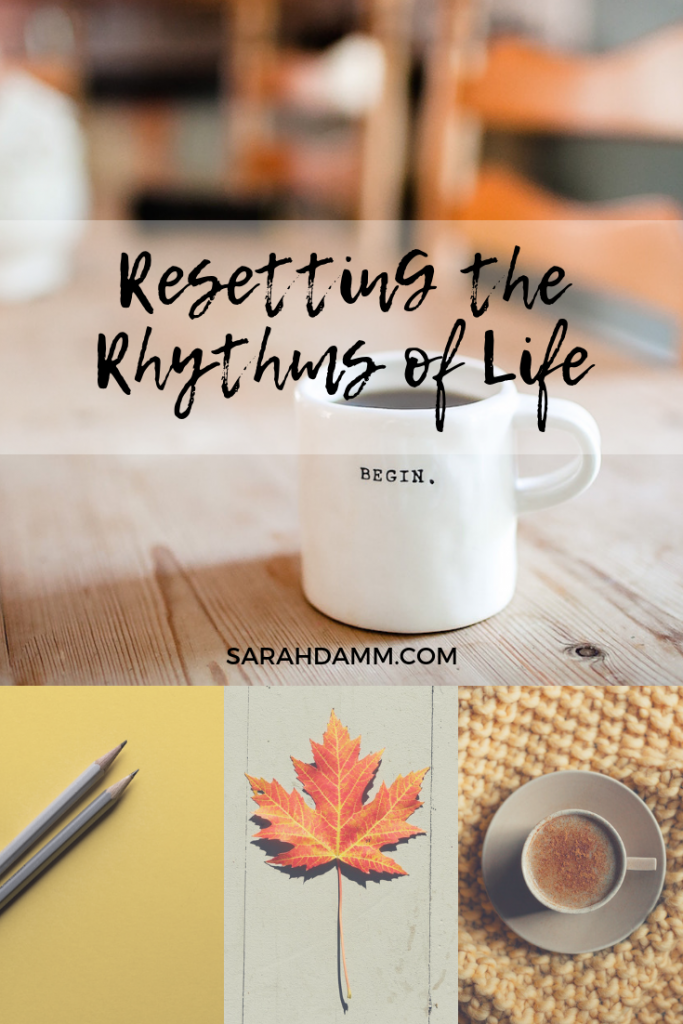 ---
This is part of a 31-day series on resetting the rhythms of life. To read more about this series and see each day's posts, click here. Photo: Unsplash