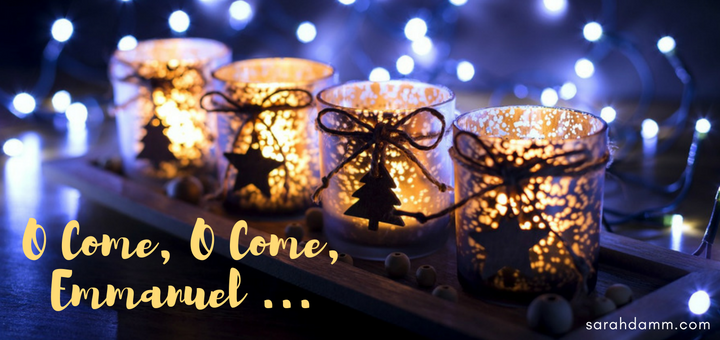 Rejoice! God is Giving Us Christmas!
Rejoice! God is Giving Us Christmas!
This reflection is the fourth in a four-part series that supplements the free Advent prayer journal I am offering to email subscribers. You may read part one HERE, part two HERE, and part three HERE.
***
One more week, and we will be celebrating the birth of Jesus. Ready or not, Christmas is coming.
This Advent, we may have started out a bit weary, a bit sorrowful, a bit worn out. We heard Jesus' invitation to come to Him for rest, and we rested in His love, peace, and grace.
Along the way, we took time—even if it was a little bit here and there—to be still in Jesus' presence. To receive all that He wanted to give us this Advent: rest, renewal, peace, and hope.
As we traveled the slow pilgrimage to Bethlehem with Mary and Joseph, we experienced a purpose in our waiting for the Messiah. We discovered that waiting for and with the Lord is meaningful and fruitful. We draw closer to the Lord, and we realize that we're not alone. Ever.
Today, our joyful expectation increases, as we light the fourth candle on our Advent wreath. Children break from school this week, and as we are checking our to-do list one more time to see what's left to do.
Are you feeling overwhelmed about getting it all done? Do you feel like there is still too much to do? Is there an internal struggle between getting stuff done and keeping prayerful and focused on Christ? Does that struggle have to be there, or can our work and prayer be intertwined?
I admit that I fight anxiety on a daily basis. I try to be mindful of remaining in God's presence and savoring these last Advent days. For me, anxiety can well up pretty quickly. And in my anxiety, I can swing from still wanting everything to look be "perfect" to throwing up my hands, saying, "It is what it is. I can't do anymore. I have nothing left to give." (Daily Advent Devotional for Women)
So, this last Sunday of Advent, I remember Jesus' invitation to come. No matter what is still left to do, what is most important is that I come … I still my anxiety … I wait with the Lord in hope … and I rejoice. Christmas is coming! Ready or not!
"You don't have to earn Christmas, you don't have to perform Christmas, you don't have to make Christmas." (The Greatest Gift)
Over the next few days, I encourage us (myself included here!) to keep spending time in God's presence. Here are five simple ideas to keep the week focused on the real reason for this season: Jesus.
Get up early and sit in the dark quiet with Jesus, only the Christmas lights on to illumine your conversation with Him.
Read the daily Gospel, and listen to His desire to soothe your weary soul.
Reflect on the O Antiphons, which are alluded to in Advent Prayers for the Weary Woman.
Go into a church or chapel on your way to running errands, and spend some time in His presence. He is there. He is waiting just as much as we are waiting.
Invite Jesus and those present on the first Christmas to accompany you in your tasks. Imagine Mary as your baking partner. How would she handle the sprinkles dumped on the floor and the mess of flour and the endless dirty dishes? Maybe Joseph is there, as you wrap the gifts. Invite the wise men on your journey to find that last-minute gift.
Let go of the anxiety. Surrender the burden. Allow HIM to prepare your heart. Rest in Him; wait for Him; breathe easy in Him … God is giving us Christmas! He is giving us His Son wrapped in swaddling clothes. Oh! How worthy He is of our rejoicing!
"He who did not withhold his own Son, but gave up for all of us, will he not with him also give us everything else?" (Romans 8:32)
If He gave us his beloved Son, He also will give us the grace to do what we need to do and let go of the rest. No matter what the outcome of our preparations, Pin-worthy or not, we can be open—with wide arms and hearts—to receive the greatest gift this Christmas, Jesus. What more could we ask for?
Click HERE for this week's free printable. Have you received your FREE Advent prayer journal for all email subscribers? We still have one week of Advent, so it's definitely not too late to carve out some quiet time with the Lord, before His arrival on Christmas! Jesus can do A LOT in a week … all we have to do is come to Him.