A Little A-ha! Moment
A Little A-ha! Moment
There are so many beautiful quotes by St. Therese of Lisieux, aren't there? Here's one that was e-mailed to me today:
Receive Communion often, very often … there you have the sole remedy, if you want to be cured. Jesus has not put this attraction in your heart for nothing …
When I was praying this morning from my Magnificat, many of the Scripture passages that were quoted pertained to children, which makes perfect sense, since St. Therese often is referred to as "the Child Jesus" or "the Little Flower."
But then I read this Scripture passage: God chose the foolish of the world to shame the wise, and God chose the weak of the world to shame the strong (1 Cor. 1:27).
And I got so excited!
Because I am currently taking a
Bible study
on First Corinthians. And we have been studying the paradox of the cross. The world looks at the cross as foolishness, but it is really the wisdom and power of God! God calls us to the cross. He calls us to put on the mind of Christ and do
everything
in our life as He would do. This is no small concept, obviously. It is life-changing, difficult and counter-cultural. But it is something we can constantly strive for.
For the Corinthians, this wisdom of the cross was a very difficult concept to grasp, when things like rhetoric, fame, wealth, athleticism and popularity were so esteemed in their society. (Sound a bit like our own society? Hmmm …) Not to mention the fact that the cross was where criminals ended up!
But Paul was trying to teach the Christians in Corinth that all of what the world says to be important (or wise) is foolishness to God. "Has not God made the wisdom of the world foolish?" (1 Cor. 1:20) What the world wants is not what God wants for us, and it is certainly not why Jesus died on the cross.
Paul goes on to say that God does not choose the powerful or noble to be His disciples, but "rather, … God chose the lowly and despised of the world, those who count for nothing, to reduce to nothing those who are something, so that no human being might boast before God" (1 Cor. 1:27-29).
And when that passage was tied into St. Therese's feast day today, I had one of those a-ha! moments, where my faith became alive for me all over again. It was a tangible connection made between these sacred texts that I'm studying and the life of one of the most beloved saints of all time! It made it that much more real, true and beautiful that the very words I have been reading over and over again in my Bible study would be incorporated into my morning prayer on this particular feast day. And I just had to thank God for how awesome He is!
It may not seem like much, but it was huge to me!
St. Therese, in her simplicity, humility, innocence and childlike ways, became a profound, wise and beautiful example of what Paul was teaching to the Corinthians. As amazing as she was, she was very normal, too, as if we can relate to her on some level. And that was Paul's point: It's not about how well-known we are or how much money we have, or how well we do this or that. That is foolishness to God! But God will use us, in our normal lives, striving for holiness, stumbling along the journey, yet not giving up, loving the Lord and sharing our faith in simple, small ways.
The lessons of the cross applied to the ancient world in Corinth and to the life of St. Therese in the 1800s in France, and they apply to you and me today. And when the Word of God is studied and we can see it lived out in real examples, we truly can give all the glory to God. For "whoever boasts, should boast in the Lord" (1 Cor. 1:31).
The only thing I really wish for … is to love until I die of love, said St. Therese. Now that is the true wisdom of God, the true message of Christ!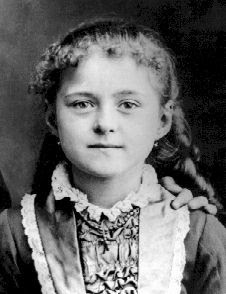 St. Therese of Lisieux, doctor of the Church, pray for us!