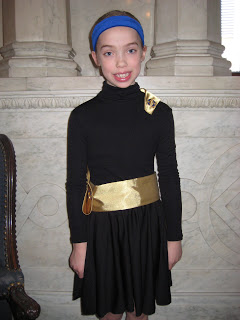 Irish at Heart
Irish at Heart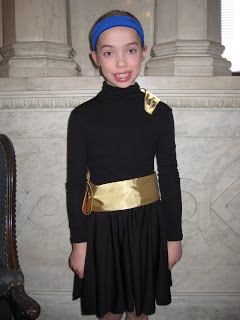 A little over a year ago, we had some
friends
over for dinner. Among our dinner conversation topics was that of their girls' involvement with Irish dance. I had seen
Riverdance
(who hasn't?), and I was looking for some sort of dance instruction for my oldest. So, I was very curious to learn more.
"But we're not Irish," I told my friend. And she laughed. Of course you don't have to be Irish to participate in Irish dance, but for some reason I had it in my head that you did ~ lol!
Fast forward to last summer … I enrolled my oldest in Irish dance camp, and she loved it. Then, at the end of summer, it was time to find a dance school. I signed her up for the beginning class at the school my friend's girls attended. I always appreciate recommendations ~ for recipes, books, music, dance schools. I like the tried and true. Things I can trust from people I trust.
So far, our experience has been nothing but positive. The school is very well-run. Organized. Professional. And yet the instructors truly care about the kids. That is obvious. Irish dance has given my oldest lessons in working hard, practicing and having a more active life.
Being part of this Irish dance school also has given her (us) a glimpse into the Irish culture ~ its music, its art, its dance. It's a rich culture that truly celebrates its history and traditions, not only on St. Patrick's Day, but all throughout the year.
Yesterday, my daughter performed on stage in front of a lot of people at the annual Irish music and dance festival at the gorgeous facility pictured below. For being a beginner, I thought she did marvelous. She smiled, and she danced her heart out. (And yes, I know I am a bragging mom, but what can I say; I'm simply proud of my girl.)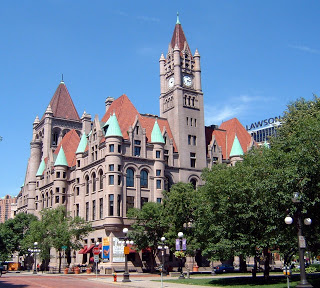 With one of our children being involved in an extracurricular activity, the activity becomes something that effects our entire family's schedule. It is something that we all attend and support her at. It's not just her activity; it's a family affair. One that I think has intrigued the next-in-line sibling, as she's been jigging up a storm since we got home yesterday afternoon.
I've never really been one to celebrate St. Patrick's Day. Probably because I thought it was only for the Irish. As I have grown in my faith, I've learned how to celebrate it as a Catholic feast day, and being Catholic is universal no matter what your cultural heritage. That is what I've been teaching my children about this feast day (and others). But this year, as St. Patrick's Day approaches, our family will be glad to celebrate the feast day of a great saint as well as appreciate the Irish culture that much more. Even for a day, I guess you could say we are proud to be Irish at heart.