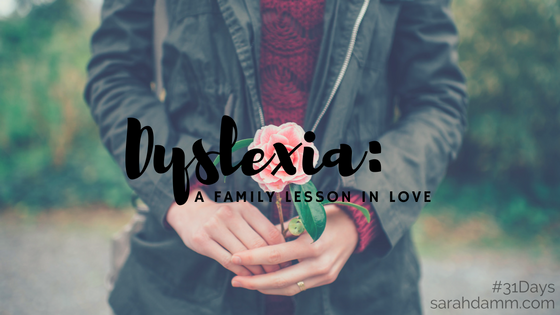 Day 25: #31 Days—Dyslexia is a Family Lesson in Love
Day 25: #31 Days—Dyslexia is a Family Lesson in Love
If one member suffers, all suffer together with it; if one member is honored, all rejoice together with it. (1 Corinthians 12:26)
My daughter tends to go with the flow. She cheers on her sister at volleyball games, plays cars with her little brother, and helps out in the kitchen. She is pretty low key, not demanding a lot of extra attention. She does receive extra time and attention because of her Dyslexia, though—tutoring twice per week, help with homework, comforting when her anxiety flares.
Her siblings are learning how to be empathetic towards her, but it is not always picture perfect. But like any family situation—whether it is Dyslexia, another learning disability, or a more temporary dilemma—it is important for a family to stick together. When one person is having a difficult time with something, it is helpful to have compassionate, empathetic people on your side.
Here are just a few ideas siblings can do to understand the world of Dyslexia:
Older siblings can offer to read books to their sister or brother. Audio books are extremely beneficial to people with Dyslexia, and having a family member read aloud can be even better, because it involves treasured time together, too.
Encourage older sibs to understand the world of Dyslexia by reading a novel where the character has Dyslexia, such as Fish in a Tree by Lynda Mullaly Hunt.
Have a sibling observe a tutoring session, so he/she can understand what their brother/sister experiences.
As a family, watch a movie, such as The Big Picture: Rethinking Dyslexia.
Carve out time to honor, uplift, and compliment one another. This not only benefits the Dyslexic child; it is encouraging to all family members.
Help children remember that everyone struggles with something at some point in life. We don't have to have the exact same experiences to feel compassion for each other. We can grow in our care, concern, and love, even if we don't fully understand exactly what a person is going through.
What ideas to help children grow in compassion and empathy have worked in your family?
For a complete list of topics and links, visit the landing page for 31 Days: One Mom's Journey With Dyslexia or click the square image below.