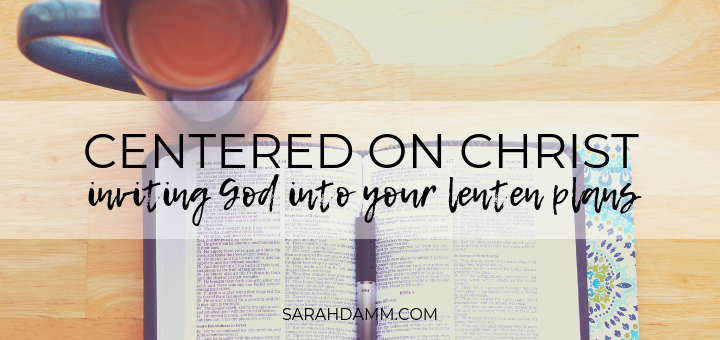 Centered on Christ: Inviting God into Your Lenten Plans
Centered on Christ: Inviting God into Your Lenten Plans
The season of Lent is less than three weeks away. Are you ready to embrace it, or are you feeling a bit uncertain about what this year's 40 days will bring?
If you are like me, we anticipate with hope the refinement and transformation that is possible during the season of Lent. What does God have in mind for me? How will He make me a new creation?
At the same time, we worry that the next 40 days will just feel like any other 40 days. Will I give into temptation? What if I get distracted? Will I fail Lent again this year?
Often, I approach Lent as this ideal time to make up for all that is lacking in my life. In six short weeks, I need to increase prayer, begin fasting, detach by decluttering my entire home, grow in all the virtues, and take time to finish reading the stack of spiritual books on my nightstand.
And while each of these Lenten ideas is good, the purpose of Lent is not to accomplish a bunch of holy tasks, checking them off like items on a to-do list.
The purpose of Lent is to grow closer to Jesus. Giving something up or adding something in invites us to fall in love with Him more deeply. Our sacrifices allow us to enter into His Passion, Death, and Resurrection in an intimate way, truly encountering His deep love for us.
Four Steps to Center Us on Christ This Lent
This Lent, instead of striving for success, what if we focused on being present to Jesus and what draws us closer to Him? Here are four simple steps we can take to invite the Lord into our Lenten plans and keep Him at the center of the season.
Step 1: Discover Your Heart's Desire
Spend some time considering the following questions: What are your hopes for this Lent? What do you feel called to do? How do you see it unfolding? How does your heart's desire for Lent tie into your life, in general?
Step 2: Ponder Scripture
The Bible is God's love letter to us, and He speaks to us personally and intimately through His Word. So, as you consider how you would like to spend Lent, let one of these verses choose you. How does it speak to you about the plans God might have in store for you this Lent?
For my thoughts are not your thoughts, nor are your ways my ways, says the Lord. For as the heavens are higher than the earth, so are my ways higher than your ways and my thoughts than your thoughts. (Isaiah 55:8-9)

Trust in the Lord with all your heart, and do not rely on your own insight. In all your ways acknowledge him, and he will make straight your paths. (Proverbs 3:5-6)

I am confident of this, that the one who began a good work among you will bring it to completion by the day of Jesus Christ. (Philippians 1:6)
Step 3: Converse With God
Now that you have reflected on your own hopes for Lent and pondered God's plans for you, unite these two exercises in prayer.
Prayer invites God into our thoughts, hopes, and heart's desires. The more we dialog with God, the more our plans align with His. Over the next three weeks, give yourself plenty of time and space to hear what the Lord is inviting you into this Lent.
Step 4: Keep it Simple
The Church offers a simple formula for the season of Lent: prayer, fasting, and almsgiving. When we realize that simple can still be meaningful, we can let go of our high expectations to do all-things holy this Lent, and we can remember that God is constantly inviting us into His plans and His ways. More importantly, He is inviting us into a loving relationship with Him.
Use the Church's simple formula of prayer, fasting, and almsgiving to allow the Holy Spirit to guide our Lenten observances this year. In prayer, talk to God about each of these three areas: prayer, fasting, and almsgiving.
A Word of Encouragement
God's plan is simple but meaningful. He does not ask too much of us but just the right amount to draw us closer to Him in love. And what's amazing is that His expectations are not too high, either. He does not even expect us to begin all three resolutions at the same time … or maybe even do all three this Lent. Start with one. Then, add another when the timing seems right. And no matter how imperfect we may be, no matter how many times we stumble, take heart! His mercies are new every morning for us to start again. (Lamentations 3:22-23)
I am offering a free downloadable journal that walks us through these steps. It includes plenty of journal prompts and space to write. To receive your copy, sign up for my email newsletter by clicking HERE.
---
This was originally published at CatholicMom.com.