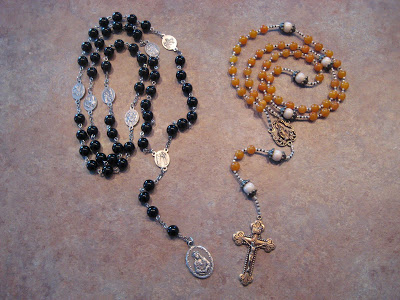 His and Hers
His and Hers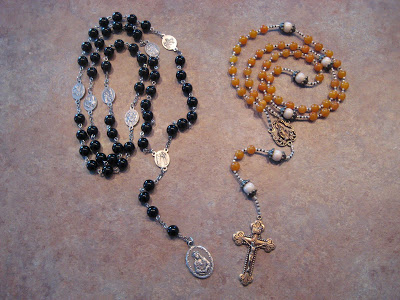 My husband attends a silent Ignatian retreat every year. The order of priests and brothers that puts on the retreat has a strong devotion to Our Lady of Sorrows. Part of the retreat's prayer ritual is reciting the Chaplet of Our Lady of Sorrows several times throughout the weekend.
When Greg returned from his fall retreat this year, he mentioned that he would like his own Chaplet, so that he could continue praying it throughout the year.
His mentioning was my cue to get him a Chaplet for Christmas.
It was difficult to pick out a Chaplet for Greg. I wanted it to be just right. I ended up telling him that I was getting him a Chaplet, just to ask him about some of his preferences: color, material, weight, etc. I also told him that he had to forget that I just told him one of his Christmas presents ~ LOL!
During this process, I was looking at Barbara's rosary blog with my mom, showing her some ideas for Greg. And I also showed her
this
Rosary that I had been admiring for awhile. She suggested that I ask for it for Christmas, and so I
eventually
showed it to Greg. But he told me he already got my present. I was OK with that. I really didn't need another Rosary anyway. Maybe another time …
When Barbara e-mailed me to tell me the Chaplet was on its way, she said that the envelope was to be opened by my mom. For some reason, probably because I was just about to have a baby, I didn't even think of this as unusual. I had so much else on my mind!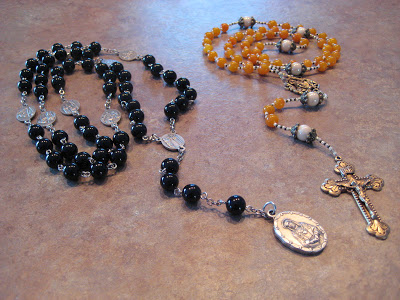 So, on Christmas Day, I gave Greg his Chaplet. I'm sure he forgot all about knowing. At least he acted surprised =)
And one of the gifts I opened was my beautiful Rosary! I couldn't believe it! I thought I had asked him too late. And I did, I guess. But my mom had told him about it sooner than I did. So he had ordered it before I even mentioned it to him!
His and her Rosary beads for Christmas! How wonderful is that!
(A little thank you to Barbara is in order. First for making these beautiful prayer beads for us. And second for being part of a Christmas surprise this year =)