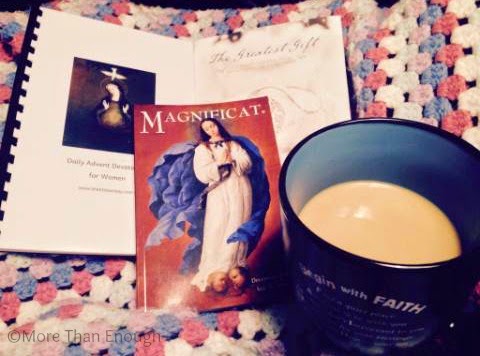 Last-minute Encouragement on the 4th Sunday of Advent
Last-minute Encouragement on the 4th Sunday of Advent
Four more days!
Are you feeling anxious to get it all done? For me, that anxiety to get it all done can well up pretty quickly. And "not only to get it all done, but to get it all done perfectly Pin-worthy." At other times, I can feel like I am giving up, telling myself, "It is what it is. I can't do anymore. I have nothing left to give." (Daily Advent Devotional for Women)
But the secret to our Christmas preparations? "You don't have to earn Christmas, you don't have to perform Christmas, you don't have to make Christmas." (The Greatest Gift)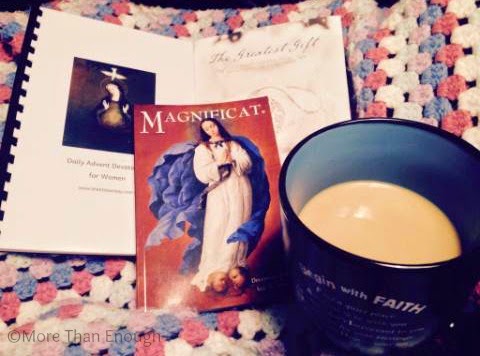 Over the next few days, I encourage us (myself included here!) to spend some time in God's presence. Get up early and sit in the dark quiet with Jesus, only the Christmas lights on to illumine our conversation with Him. Read the Gospel, offer the day, listen to Him soothe your weary soul. Go into Church on the way to Target and spend some time in His presence. He is there. He is waiting just as much as we are waiting. Invite Him to accompany you in your tasks. Imagine Mary as your baking partner. How would she handle the sprinkles dumped on the floor and the mess of flour and the endless dirty dishes?
Let go of the anxiety. Surrender the burden. Allow HIM to prepare your heart. Rest in Him; wait for Him; breathe easy in Him … God is giving us Christmas! He is giving us His Son wrapped in swaddling clothes.
"He who did not withhold his own Son, but gave up for all of us, will he not with him also give us everything else?" (Romans 8:32)
If He gave us his beloved Son, He also will give us the grace to do what we need to do and let go of the rest. No matter what the outcome of our preparations, Pin-worthy or not, we can be open—with wide arms and hearts—to receive the greatest gift this Christmas, Jesus.