Lessons I Learned From an Advent Wreath
Lessons I Learned From an Advent Wreath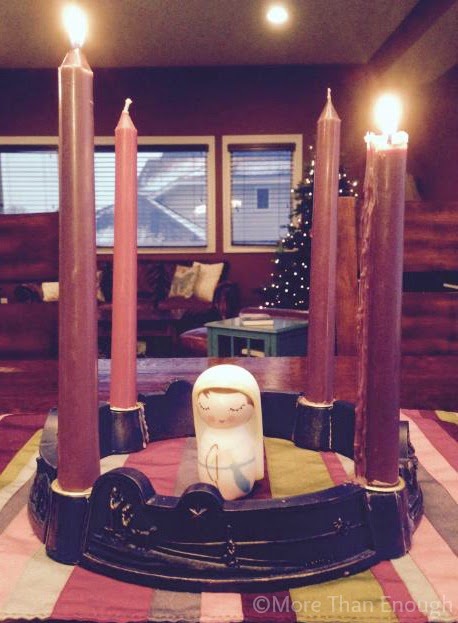 Every year, when I take out our Advent wreath, I cannot help but smile. Not only is the Advent wreath one of my family's favorite traditions, it also has a story that I enjoy reliving—and retelling—each Advent, for within the story of our Advent wreath is a lesson that I need reminding of each year.
In fall 2009, I finally purchased an Advent wreath online. Prior to this, I had made one each year with pillar candles and greenery. But as my children were growing, I wanted a wreath that was ours, that represented tradition and consistency.
I kept waiting and waiting for the wreath to arrive. And then, I found out it was on backorder! Of course, I panicked, as Advent drew closer and closer, and we were without an Advent wreath! I remember desiring a more peaceful approach to Advent that year (OK, every year). But I realized that even though I was trying to keep Advent free from cluttered busyness, my approach was all wrong, and my perfectionism was ultimately interfering with the real peace of Advent.
The back-ordered Advent wreath was a wake-up call for me to stop trying to make a perfect Advent. We can't buy or make Advent. But we can experience Advent and pray Advent and focus on Advent. We just can't force it. So, I let go of my ideas for my wreath, as well as other plans that I thought had to happen.
I created a wreath out of some white votive candles and some greenery.
This simple wreath ended up setting the tone for that entire season …
… And when my real Advent wreath finally did arrive, well,
it was in pieces
! Was there even more that I needed to learn? Had I not learned it with the waiting? Did I need to learn more in broken pieces? Was God telling me I needed to keep working on letting go of perfectionism and focusing more on the interior preparation of my heart that was far more important than any decorating, baking, giving and making that I was trying to do?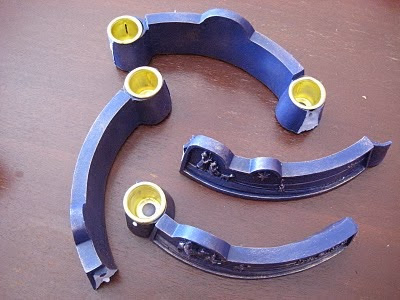 After getting a huge apology and refund from the company from which I purchased my wreath, I was about to throw it away, because really, I had already let go of it weeks ago when it was on back order. Maybe this wreath was not meant to be. Then, my handy husband said, "Wait! I think I can fix it." And he did.
And in 2010, our family had our Advent wreath.
My husband wasn't sure if the Advent wreath would last long, because the material that it is made from was difficult to make sturdy again. But I didn't mind! That year, I didn't have to worry about finding a new wreath or making another one, and I loved lighting the traditional purple and rose candles once again.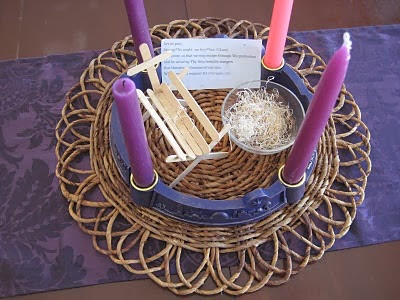 Well, it is 2014, and this Advent wreath has remained intact and has blessed our family's Advent for several seasons now. We usually light it during dinner, and someone always blows out the candles too early or when it's not their turn. Sometimes, we'll light it after dinner, during our family prayer time, too.
Some years, I add some greens and pinecones to it, because I like the natural wreath look, too.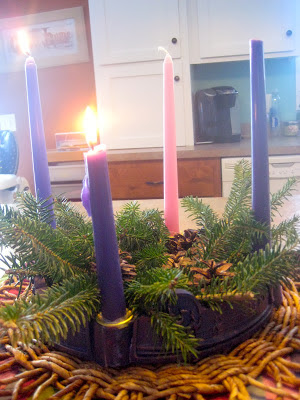 The tradition of the Advent wreath is indeed a blessing in our family. We have many other Advent traditions, but this simple ritual is at the top of our list. Other things can happen or not happen, depending on the year, but our Advent wreath is a constant; something that keeps us grounded in hope, peace, joy and faith, no matter what's going on around us.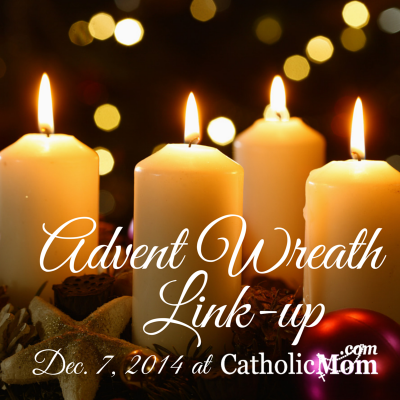 There is an
Advent wreath link-up
at
CatholicMom.com
. Grab a cup of coffee and be inspired by all kinds of wreaths and how they are used within various families. And if you are so inclined, share your wreath at the link-up to inspire others, too!