Day 29: #31 Days—Saturday's Saint
Day 29: #31 Days—Saturday's Saint
The last saint in my mini "Saturday's Saint" series within this 31-day writing series is St. Bernadette Soubirous. She is a most beloved saint in the Catholic Church, because the Blessed Virgin Mary appeared to her and asked her to build a grotto for healing in her honor.
St. Bernadette was born in Lourdes, France on January 7, 1844. She was the oldest of nine children, but some of her siblings died at a young age, and even Bernadette became sick as a toddler and suffered poor health her entire life. Because the family was poor, Bernadette worked as a shepherdess, which prevented her from going to school. Even at the age of 14, Bernadette had not received her First Communion and struggled with reading. One of her teachers said that she had a hard time retaining the words of the Catechism, because she could not read it.
At the same time she struggled with reading and learning, something miraculous started happening in her life. On Feb. 11, 1858, she, her younger sister, and a friend went to gather firewood. A beautiful woman appeared only to Bernadette in a grotto. The woman wore blue and white and smiled at Bernadette, who described her as small and young. She made the Sign of the Cross with a rosary of ivory and gold. Bernadette fell to her knees, took out her own rosary, and began to pray.
Three days later, Bernadette, her sister Marie, and other girls returned to the grotto, where Bernadette immediately knelt, saying she could see the lady again. On February 18, Bernadette said Our Lady asked her to return to the grotto each day for a "holy fortnight." Bernadette's parents were embarrassed by her claims of the visions and tried to prevent her from going.
On Feb. 25, Bernadette had a life-changing vision. Mary told her "to drink of the water of the spring, to wash in it and to eat the herb that grew there," as an act of penance. Bernadette saw that the grotto's muddy waters were miraculously cleared, and fresh clear water flowed from it. On March 2, the 13th apparition took place, and Mary asked Bernadette that a chapel be built at the grotto.
During her 16th vision on March 25, Bernadette asked the woman her name, and Mary smiled at her question. Bernadette asked three more times, and finally the woman said, "I am the Immaculate Conception."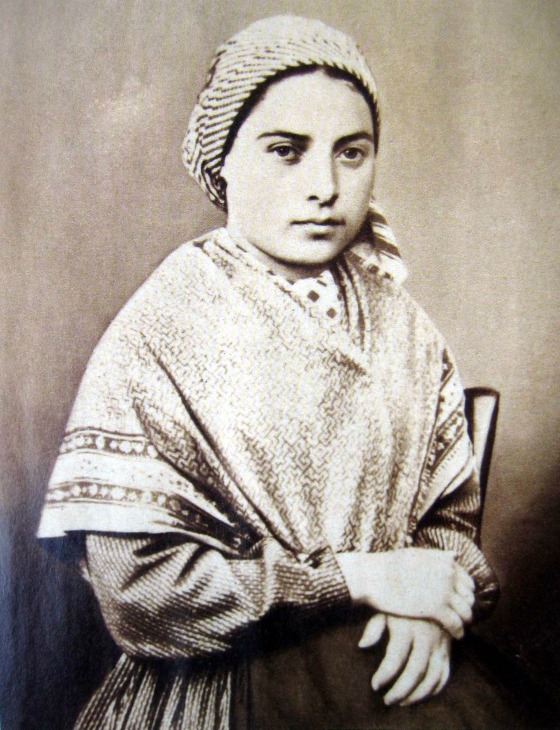 Many people believed Bernadette's visions, but some believed she had a mental illness and demanded she be put in an asylum. Church officials and the French government interviewed her, and Bernadette's theological knowledge convinced them that what she was saying was true. She could not read in order to learn the catechism and she had not received her First Communion, however, she was able to articulate, on her own, that the lady appearing to her was the Immaculate Conception—a very deep theological dogma.
By this time, 69 cures within the healing waters had been verified. Even after rigorous medical examination, no one could explain what caused the cures. Bernadette knew it was faith and prayer that cured the sick.
A chapel was built, and the Sanctuary of Our Lady of Lourdes is now one of the major Catholic pilgrimage sites in the world.
Following the miracles and construction of the chapel, Bernadette did not like the attention she was getting and went to the hospice school run by the Sisters of Charity of Nevers, where she was finally taught to read and write. On July 29, 1866, Bernadette joined the Sisters of Charity, and she spent the rest of her life working as an infirmary assistant and sacristan. People admired her simplicity, humility, and holiness.
Bernadette died on April 16, 1879, at the age of 35, while praying the rosary. Bernadette's last words were, "Blessed Mary, Mother of God, pray for me. A poor sinner, a poor sinner." She often said that she was chosen by Mary because of her simplicity and lack of knowledge.
Thirty years after her death, Bernadette's body was found incorrupt, a miracle that supported her canonization to sainthood. She was canonized by Pope Piuis XI in December 1933.
St. Bernadette is often pictured in prayer with a rosary or appealing to the Blessed Virgin Mary. St. Bernadette is the patroness of illness, people ridiculed for their piety, poverty, shepherds, shepherdesses, and Lourdes, France.
St. Bernadette is a beautiful heroine for someone struggling to read, because she experience that herself. But even in the midst of this struggle, God gave her an amazing gift that has had an incredible impact on the entire world.
St. Bernadette, pray for us.
For a complete list of topics and links, visit the landing page for 31 Days: One Mom's Journey With Dyslexia or click the square image below.